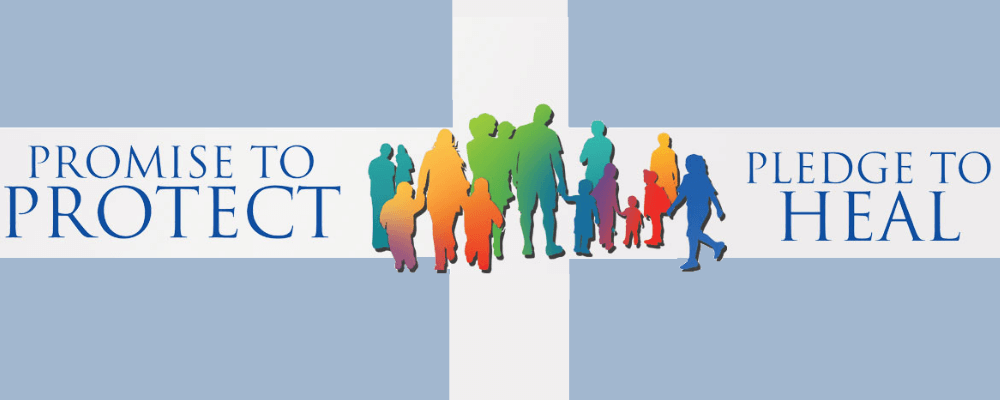 2023 Safety Coordinator Shout – Outs
Each month we will give a shout-out to a safety coordinator at a parish or school who is well deserving.
During the month of November we are recognizing
Donna Benoit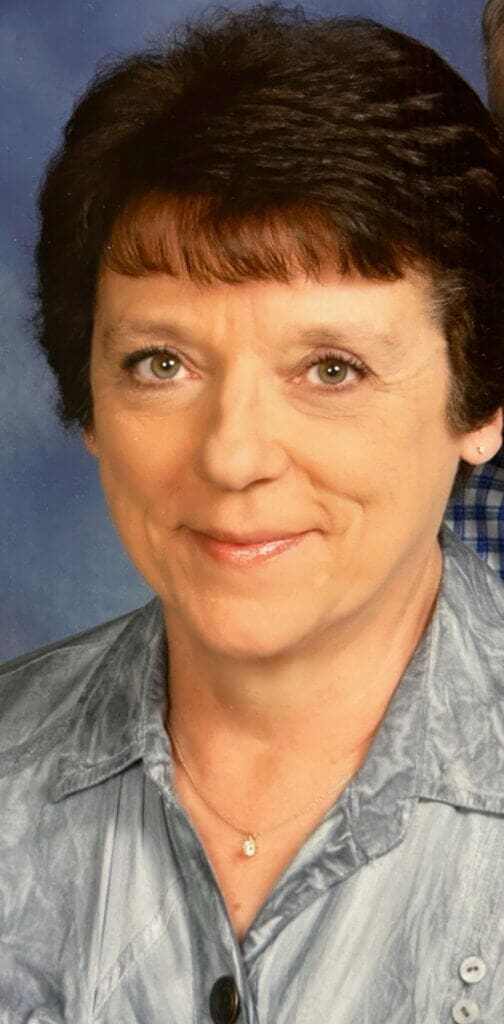 Donna Benoit serves as Pastoral Associate for St Joseph's Church in Damar. Donna began her career at St. Joseph's in 1986, then serving as part time secretary to their resident priest. With the parish becoming a mission of Immaculate Heart of Mary in Hill City and no longer having a resident priest, her role has changed over the years from just copying a bulletin once a week to managing the parish office to completing the Diocesan Pastoral Associate Program and serving the parish in a variety of ways. She also serves as the Parish Safety Coordinator for the Diocese. Donna is married to Tom Benoit and they have four children and five grandchildren. Donna enjoys cooking and spending time with family.
Donna has been a great addition to the Safety Coordinator Team in the diocese as her attention to detail, excellent communication skills, and reliability are what stand out the most! We greatly appreciate all of Donna's work and ALL she does at St. Joseph Parish in Damar. Donna's favorite saint is St. Isidore, as they are a farm family.
Grant we beseech You, merciful Lord, through the intercession of Blessed Isidore, farmer and confessor, not to let us be vain with the wisdom of the world, but by his merits and example, let us in all humility always do what is pleasing to You. Through Christ our Lord. Amen.
————————————————————————————————————————————————————————————
During the month of April we recognized and and honored Tracy Perrett.
Tracy was recognized as Safety Coordinator of the Year for 2023!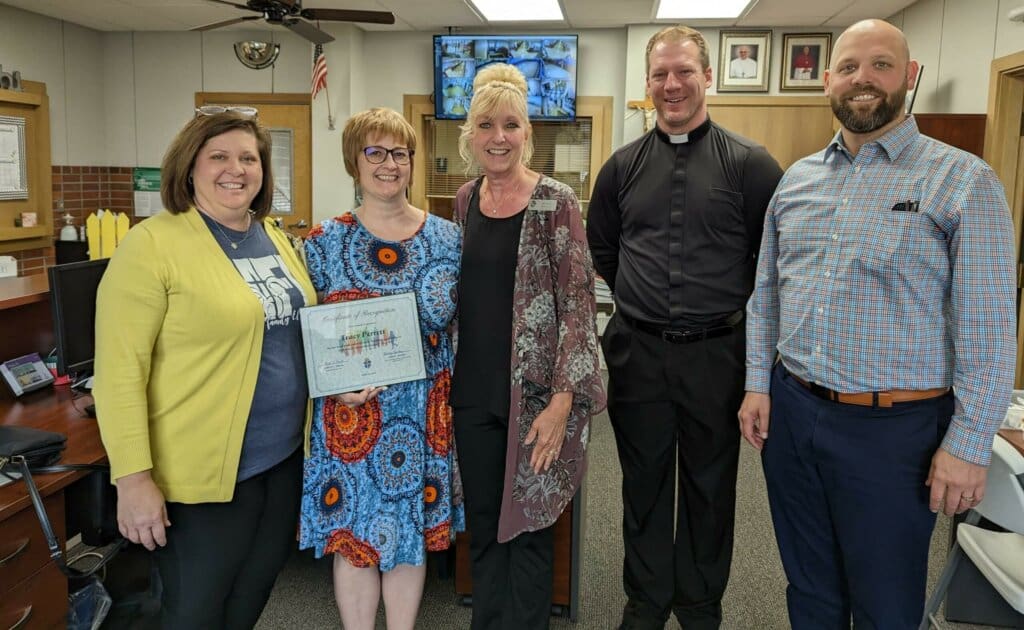 Tracy's parish career began 6 years ago when she was hired as an Administrative Assistant at Holy Family Elementary in Hays, KS. Her duties include safety coordinator, social media and marketing, retention and recruitment.
This year as a school they have been have been following the virtue of Hope and the Bible verse guiding them has been Isiah 40:31. But those who hope in the Lord will renew their strength. They will soar on wings like eagles; they will run and not grow weary, they will walk and not be faint. "God will take care of all things if I only place my Hope in him".
Tracy is married to her high school sweetheart, she and Eddie have two boys, Seth and Ben. She is a member of Immaculate Heart of Mary Church in Hays, KS and co-chair of the Art and Environment Committee as well as a Eucharistic Minister. Tracy is professional, organized, dependable and hard working. Tracy's strong communication skills are what stand out most, which is so important as we continue to train and educate people in our parishes, schools, and community; with our mission, promise to protect, pledge to heal.
We greatly appreciate Tracy's work as Safety Coordinator and all she does at Holy Family Elementary in Hays, KS
————————————————————————————————————————————————————————————
Compliance
Please click compliance letter below to read the letter addressed to Bishop Vincke from StoneBridge Business Partners regarding the most recent audit findings from our on-site audit conducted September 2021.
COMPLIANCE LETTER JULY 1, 2018 – JUNE 30, 2021
The Catholic Diocese of Salina is committed to maintaining safe environments for children to learn, pray and grow. The Safe Environment Office is responsible for implementing and overseeing the full diocesan response to the USCCB's Charter for the Protection of Children and Young People (click below to read). To ensure the safety of children and young people entrusted in our care, we provide educational training programs (through CMGConnect on-line platform), conduct presentations, and provide resource materials to personnel ministering to minors in our schools and parishes in relation to the directives of the Charter. Along with the training, with the assistance of the Human Resources Department, the office helps to oversee background screenings of these trained adults.
USCCB's Charter for the Protection of Children and Young People
The Victim Assistance Coordinator (VAC) manages the Catholic Diocese of Salina's response to a victim/survivors of sexual abuse by serving as a contact and support for them, offering information regarding therapy, counseling and opportunities for outreach toward healing and restoration for the individual and their family. The VAC may also make recommendations to the bishop regarding any special needs of the affected parishes or community.
The Safe Environment Office supports our parishes and schools, maintains the compliance of our Dioceses and is an excellent resource for parents, educators, volunteers and community members.
Overview
As a community of faith, we believe that the prevention of child sexual abuse begins with each person. Increased awareness and a willingness to take action are steps for every person to take to eradicate abuse in our society, in the community, in the neighborhood, and in the family.
In the Catholic Diocese of Salina, we ensure this by:
Thoroughly screening and training all clergy, employees, educators and volunteers, with regard to contact with minors. This group includes drivers who transport minors, coaches, kitchen workers, and playground supervisors, just to name a few. The training is done through CMGConnect our on-line training platform through Catholic Mutual which includes an integrated background check through Selection.com
Providing appropriate training in recognizing and reporting child sexual abuse to appropriate civil and church authorities. This training is done through meetings and presentations and is also discussed during on-site audit visits with parish and school Safety Coordinators, Pastors and Principals. Child Abuse training materials are presented through various handouts, flyers, posters and are distributed to parishes and schools via our website, newsletter, and the SDNB.
Holding all members of the clergy, employees and volunteers who work with minors to Christ centered and professional policies and codes of conduct. Read the Diocese of Salina Policy and Code of Conduct below.
Diocese of Salina Policy , Code of Conduct, Social Media
Providing safe environment training for STUDENTS in catholic schools and parish religious education programs. In these yearly refreshers, teachers will instruct ways to make and maintain a safe environment for children and young people. These age appropriate lessons may include information and instruction about: God's love, relationships, personal space, boundaries, respect and care; safe and unsafe touches; lures, internet safety, bullying, as well as how to get help from a trusted adult. This training is for students in grades K-12.
For more information regarding the Safe Environment Program for the Catholic Diocese of Salina please contact Wendy Backes 785-827-8746 #124