Founded 1902
A mix of ethnic backgrounds were evident in eastern Russell County, and a pioneer made sure his bishop knew that.
Since 1877, Mass had been celebrated by itinerant priests. The first church was built in 1883.
Peter Thielen wrote Leavenworth Bishop Louis Fink requesting that a priest be sent to serve the Wilson area. Not just any priest, Thielen stressed; he should be able to speak Czech, German and English.
Bishop Fink replied on April 7, 1883: "My dear Mr. Thielen: Your letter was forwarded to me. The Bohemians have to have patience like the others. I have no priest who can speak German, Bohemian and English. Two seminarians are studying and they may get finished in two years. Please get together and build a Catholic church for all whether they are Bohemians, German, Irish or Frenchmen. United makes strong. Work faithfully with Father Kelly; he means what is best for you."
Father John Kelly was the pastor in Ellsworth who traveled to Wilson.
The letter from the bishop, written in German, was passed down to his granddaughter, Loretta Doubrava.
In 1885, the bishop sent Father Karel Dragoun, a native of Moravia, to the Wilson parish. The Bohemians were elated; the others weren't, for the priest wasn't fluent in German or English. Eventually, as more Germans settled west of Wilson, the residents decided they should have their own parish.
In 1902, the Methodists in Dorrance concluded they had built too large of a church, and they agreed to sell it to the Catholics. Bishop Cunningham dedicated the "new" Catholic church in 1903.
For years, the new parish was a mission of Gorham and Russell. Today, it is a mission of Wilson, the parish that the residents' ancestors first attended.
Confession Times
First Saturday of the month
following 6:00 pm Mass
Parish Directory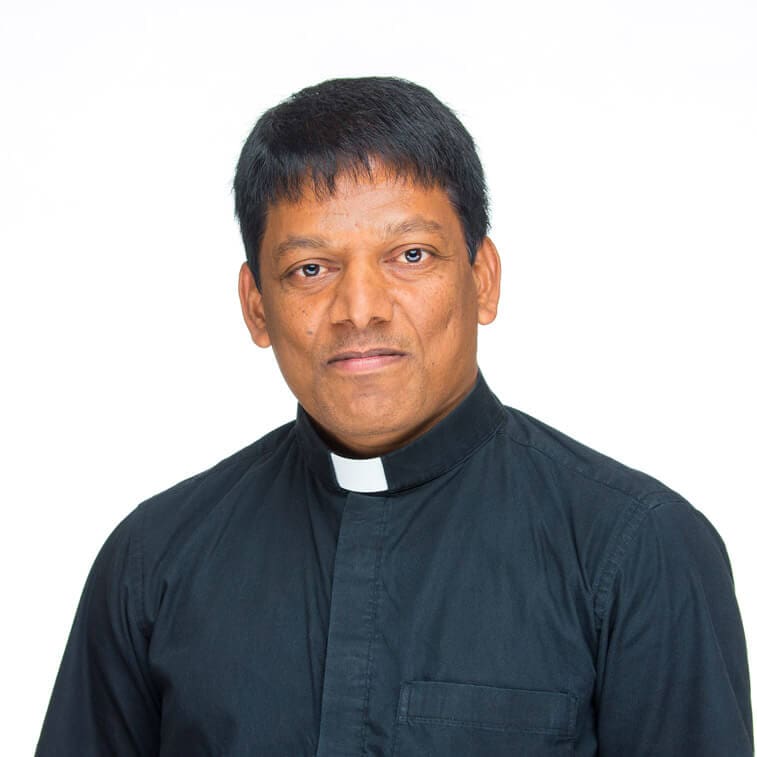 Fr. Lourthu Antony Kulandaijesu, HGN
Parish Administrator
View Profile