Founded 1888
The imposing twin towers of St. Joseph's Church reflect the determination and sacrifice of its French-Canadian parishioners to build a majestic house of God.
Mass first was celebrated in a settler's home in 1887, and a year later, a small church was built. The community first was known as St. Petersville. When the railroad came through, the town was renamed Damar, and the church was moved to the site of the present structure.
By 1912, the congregation had outgrown that small church, and plans for a grand Romanesque church were started. Limestone was quarried and shipped from Waldo, about 50 miles to the east, and parishioners provided most of the labor, making the ambitious feat possible.
Still, the church was constructed in stages. Although the structure was completed in 1913, the interior was not plastered until 1917, and pews and a heating system were not installed until 1929. The copper roof, interior decorating and stained-glass windows were added between 1944 and 1952.
The church was rededicated in 2007 after a $300,000 restoration project. The work included 34 decorative columns, the decorated art ceiling and the stained-glass windows. Grants and donations paid for all but $40,000 of the project.
Mass Times
First Friday of the month
Adoration at 10:00 am and Mass to follow at 11:00 am
Parish Directory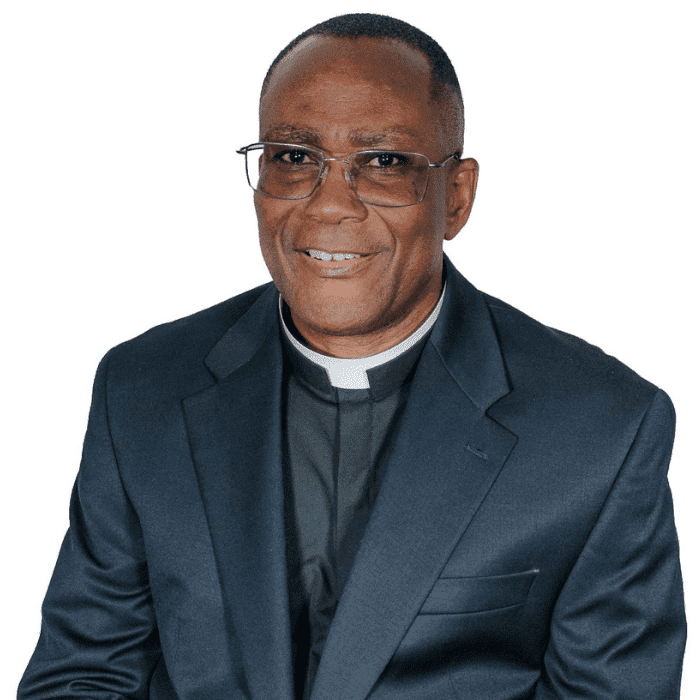 Fr. Ernest Amoako-Opare
Parochial Administrator
View Profile