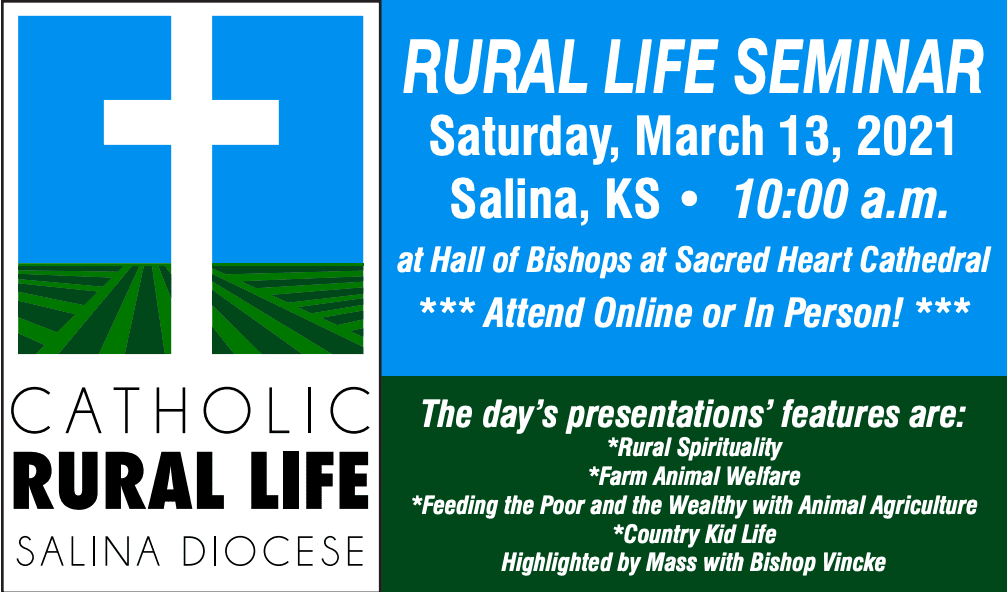 About the Conference
The event will be March 13th, 2021 and includes talks given by four speakers and Mass celebrated by Bishop Vincke. This conference is a great way to help us grow when it comes to including Christ in our rural lives. Presentations are over farm animal welfare, feeding the poor and the wealthy with animal agriculture, raising children in rural life, and rural spirituality. The event can be attended in person or online. There is a free will donation for the event.
Registration
Registration for this event has closed
Schedule
10:00 – Opening Prayer & Welcome by Bishop Vincke
10:15 – Pastor Brad Roth – Saints of Dust and Spirit: Abiding in Rural Places
Pastor Brad Roth

Brad grew up on a farm in Illinois, went to Augustana College and then to Harvard Divinity School. Brad and wife Lici are convinced that the way of life Jesus modeled and taught is the best, most interesting, most meaningful way to walk in the world, and they strive to follow Him. Brad's preaching and teaching seeks to connect the gospel to day-to-day life. Pastor Brad published a book on the rural church: God's Country: Faith, Hope, and the Future of the Rural Church.
11:30 – Mass and Message on Christian/Catholic Rural Life by Bishop Vincke
12:15 – Lunch for those attending in person
1:00 – Dr. Janice Swanson – The Responsible Stewardship of Farmed Animals: Animal Welfare.
Dr. Janice Swanson- Michigan State University

Dr. Swanson's program is focused on addressing social responsibility in the food system and its relationship to animal welfare, the role of animals in society, and scientific investigations in farm animal behavior.

Dr. Swanson's outreach includes leadership and guidance for the development of science-based recommendations for the continuous improvement of the well-being of farm animals. This includes educational programming, serving as an expert resource to translate relevant scientific knowledge to commodity organizations, food retailers and other members the public.
2:00 – Dr. Dan Thomson – Wealth and poverty: Feeding the world with animal agriculture
Dr. Dan Thomson- Iowa State University

Dr. Thomson teaches farm animal production medicine, welfare and nutrition. Dr. Thomson is recognized internationally as a leader in animal welfare, beef cattle production and cattle health management. Dr. Thomson has extensive research and field experience on the interactions between production management, environment and nutrition on the health and well-being of beef cattle.
3:00 – Stephanie Eckroat – Farm To School: Making Rural Life "Ag-Citing" for Kids
Stephanie Eckroat

Currently Stephanie serves as the County Coordinator for the Ellis & Trego County Farm Bureau Associations and serves Executive Director of the Kansas Dairy Commission and Association.

Stephanie received her B.A. in Animal Science from Fort Hays State University, while working as the Assistant Manager of the University Dairy. Stephanie was a team member of the FHSU Livestock Judging team. She went on to become Manager of the University Dairy and finished out her career as a dairyman with 22 years of dedication to livestock and helping to shape the lives of college students passionate about the Agriculture.. In addition to this role, she serves as the Executive Director of the Kansas Dairy Commission and Association, representing the 280 dairy farm families that work and reside in Kansas.

Stephanie, husband Micheal and 3 children: Rosston, Lakin, and Mesa love cherish their time with family and have a deep commitment rural life.
3:45 – Closing remarks and prayer: Fr. Richard Daise, Bishop Vincke
4:00 – Adjourn