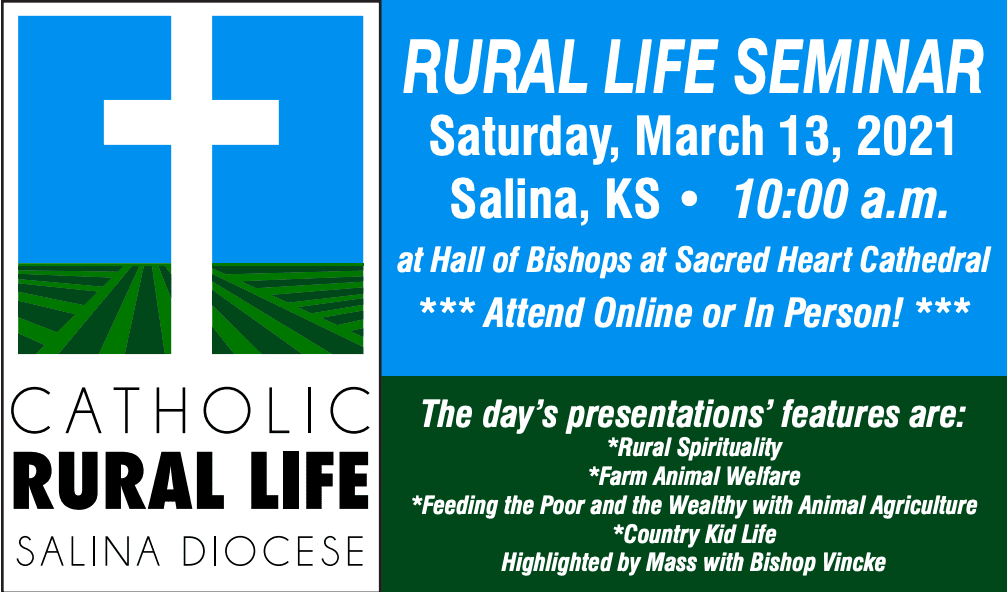 About the Conference
The event will be March 13th, 2021 and includes talks given by 4 speakers and Mass celebrated by Bishop Vincke. This conference is a great way to celebrate being faithful stewards of the land as we explore new information in farming practices and other rural issues affecting Salina Diocese members.
Registration
Registration link coming soon
Schedule
10:00 – Opening Prayer & Welcome by Bishop Vincke
10:15 – Pastor Brad Roth – Saints of Dust and Spirit: Abiding in Rural Places
11:30 – Mass and Message on Christian/Catholic Rural Life by Bishop Vincke
12:15 – Lunch for those attending in person
1:00 – Dr. Janice Swanson – The Responsible Stewardship of Farmed Animals: Animal Welfare.
2:00 – Dr. Dan Thomson – Wealth and poverty: Feeding the world with animal agriculture
3:00 – Stephanie Eckroat – Farm To School: Making Rural Life "Ag-Citing" for Kids
3:45 – Closing remarks and prayer: Fr. Richard Daise, Bishop Vincke
4:00 – Adjourn