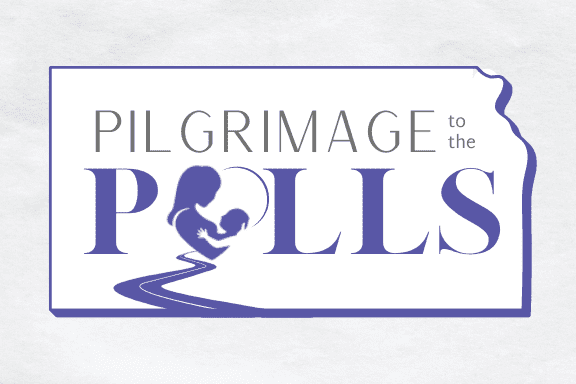 St. Joseph made a pilgrimage to Bethlehem. It wasn't an easy journey. But he made the trip, all the while protecting an expecting mother and unborn child. Now, it is our turn. Join us As we make a pilgrimage to the polls. Join us as we seek to protect the rights of Pregnant women and the unborn.
Please vote "Yes" to the Value them Both amendment – August 2, 2022
To learn more and make a gift, visit valuethemboth.com or send checks to:
VALUE THEM BOTH
P.O Box 40501
Overland Park, KS 66204
Message from Bishop Vincke
My dear brothers and sisters in Christ, Pilgrimages are popular in the Catholic faith. When we think of a pilgrimage, we think of people embarking on a long, arduous journey to a sacred or holy place. Oftentimes, a pilgrimage is a physical journey that expresses an internal disposition. A pilgrimage is a way to communicate our faith journey. And maybe pilgrimages are so popular because we see many of the saints who have embarked on pilgrimages.

A pilgrimage that comes to mind for me is the one of St. Joseph as he guided the expecting Mary to Bethlehem. The road couldn't have been easy. For starters, their mode of transportation was a donkey. And perhaps they were met with bad weather. Or maybe there were animals or marauders that served as threats along the way. But St. Joseph journeyed to Bethlehem, protecting both mother and unborn child along the way. He carried Mary and Jesus with him.

And now, in a special way, I'm asking all of you to imitate St. Joseph. I invite you to embark on a "pilgrimage to the polls." A pilgrimage to protect the expecting mother and the unborn child. As you might know, in 2019, the Kansas Supreme Court found that the right
to unlimited abortion is protected in the Kansas constitution. Because of that verdict, all legislated safeguards against the abortion industry are considered null, and there is now unlimited and unregulated access to abortion within our state.

But there's a chance to change that. On Aug. 2, the Value Them Both Amendment is on the ballot. We, as the people of the state of Kansas, have a chance to decide. Please make the pilgrimage to the polls and vote "yes." Bring other "pilgrims" with you. If we get a majority vote of "yes," it will restore the substantial safeguards for mothers and unborn children. But how is this a pilgrimage? We are journeying together to fight for the lives of expecting mothers and the unborn.

Every person has the right to life, and it is our duty to protect that right, just like St. Joseph did. And as we journey, we take Mary and Jesus with us. We can even start the pilgrimage now. Perhaps we can offer our rosary for the Value Them Both Amendment. Perhaps we can tell others how important this amendment is. Perhaps we can say the Value Them Both prayer every day during Lent. Sometimes pilgrimages can be difficult and arduous. But it's all worth it. So is the pilgrimage to the polls to help pregnant women and babies.

In Christ's service,
Bishop Vincke
Value Them Both Postcard