Seminarian Match Available!
Fantastic News! We have just received an additional $100,000 gift ready to be matched to benefit seminarians! That's right, your generosity will DOUBLE the impact for seminarian education. Talk about a holy multiplication! Imagine more seminarians getting the support they need to become the change-makers our world craves. If you have any questions, please call Heather Hartman at 785-738-7336.
Please send check to PO Box 1696 Salina, KS 67402 or fill out the form below.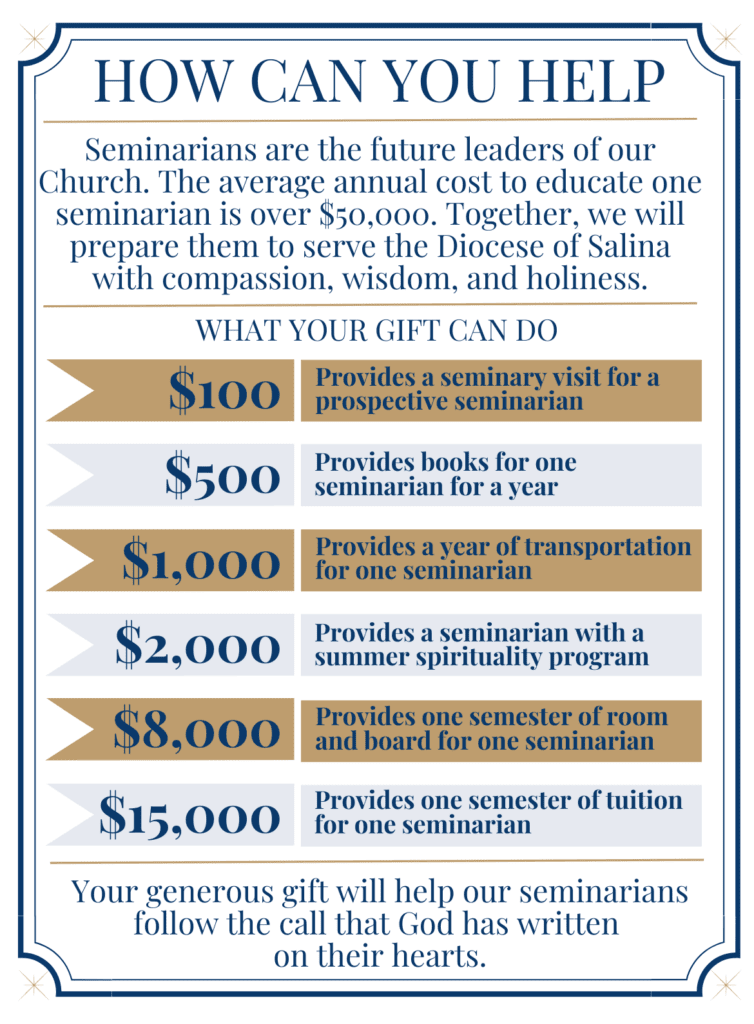 Seminarian Collection
The seminarian collection is held in every parish across the diocese and occurs during one of the first weekends in August. Donations to this collection support the tuition, books and board and summer ministry expenses of the seminarians, as well as recruitment of future seminarians. Thank you for your continued prayers and support of our seminarians.
Seminarian Dinner
The annual seminarian fundraising dinner takes place each year in August and provides a unique setting for the faithful of the diocese to meet the men who are discerning a call to the priesthood. We hope and pray that these men will one day become great priests for future generations of Catholics within our diocese. This event is a fundraising dinner to support our seminarians. It includes time to socialize, evening prayer, dinner and a brief program.
Prayers and financial support are essential to the vocational discernment of our seminarians. Donations to the seminarian fund supports the tuition, summer ministry, books, room and boarding expenses of our current seminarians, as well as recruitment of future seminarians. The average annual cost to educate one seminarian is more than $50,000. If you have any questions, please call Corrina Hudsonpillar at 785-639-2100.